RMT backs new wind blade business by ex-Vestas workers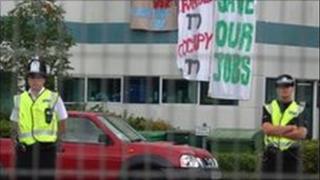 Workers set to open their own wind turbine business just yards from the site of their former employer have received union backing.
Vestas, which was based in Newport on the Isle of Wight, closed its factory with 425 job losses a year ago.
Staff finally lost their fight for jobs after an 18-day sit-in protest ended.
Bob Crow, Rail, Maritime and Transport (RMT) union general secretary, which has helped the new venture, called the workers an "inspiration".
Vestas blamed the job cuts in July 2009 on a lack of demand in the wind industry in Britain, but said the firm went "well beyond other companies" to help those who were made redundant.
'Real credit'
The new business, called Sureblades, will build micro turbine blades, from the same industrial estate as the former Vestas site.
Sean McDonagh, who helped organise the sit-in protest, launched the new company, which will start production in September employing a number of ex-Vestas workers.
He said he hoped to employ more than 40 workers within two years, with the first order going to a wind energy firm in Ireland.
The RMT said "real credit" lay with the "determination and solidarity" of the workers who refused to accept they were beaten.
Mr Crow said: "The former Vestas workers behind this imaginative new project have completely destroyed the argument put forward by the company at the time of closure that there was no market for UK-manufactured turbine blades.
"Through their efforts to create jobs they have blown apart the bogus grounds put forward at the time for closure and redundancy of the workforce."