Fire at Watercress Line steam railway in Hampshire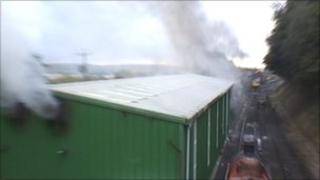 Firefighters have been tackling a fire at the Watercress Line steam railway attraction in Hampshire.
The fire took hold of a new workshop at the line, which runs steam trains along 10 miles (16km) of countryside between Alresford and Alton stations.
The workshop, which opened in February after lottery funding was secured, is used for restoring carriages and rolling stock.
The area has been cordoned off because of the risk of explosion.
Engine inside
A diesel engine, two carriages and a tender were all inside the building.
Two workshops were built with the help of lottery funding as part of a £1.1m project that also saw two new apprentices taken on.
The line, also known as the Mid-Hants Railway, was originally part of British Railways until it closed in 1973.
It was fully reinstated in 1985 and is supported by more than 450 volunteers.