Body in Southampton stream prompts murder inquiry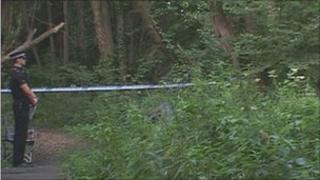 Detectives investigating the discovery of a man's body in a Southampton stream are now treating his death as murder.
Shawn Williams, 42, (also known as Simon) from Woolston, was found near Springford Road, Coxford, on 20 July.
Police think he discharged himself from Southampton General Hospital on 3 July after suffering head injuries during an attack near Princes Court in Northam.
A spokesman said Mr Williams did not make a complaint, but police are treating his death as suspicious.
The force was notified by South Central Ambulance that they had treated a man with serious head injuries in Northam Road on 3 July.
Public appeal
Officers believe Mr Williams, of Victoria Road, was assaulted as he walked through Northam estate.
Det Ch Insp Dave Powell, from Hampshire police, said: "We are treating the death of Shawn Williams as murder and we believe that the serious head injuries he received from this assault led to his death.
"We know Mr Williams discharged himself from hospital a few hours after he was admitted and he is seen on CCTV walking out of the hospital, not far from where his body was eventually found."
He added that he needed to hear from anyone who saw Mr Williams on the estate between 0730 BST and 0830 BST on the day of the incident.
"Did you see Mr Williams being assaulted, or hear or see a group of people in the area that morning in or near to Princes Court?" Det Ch Insp Powell said.
"You may have some vital information that could lead us to his killers."
In a statement, Mr Williams' family said: "Our son Simon was a quiet, gentle man, with an easy-going, friendly temperament.
"He did not drink, smoke or take drugs, and was so keen to keep healthy he became a vegetarian.
"He was as much a friend as a son and will be sadly missed by us, his mother and dad."
At the time Mr Williams was discovered, he was wearing an extra large size purple round-neck T-shirt and dark blue trousers.
He was also wearing Asics Gel trainers.
Mr Williams has been described as of athletic build, 6ft 5in (1.95m) tall with ginger hair and weighing approximately 17-18 stone (107.95 114.3 kg).