Campaigners win Gosport to Fareham transit route appeal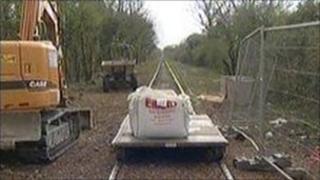 Campaigners have won the right to an appeal against the building of a £20m rapid bus transit route in Hampshire.
However, recently-begun work on the Bus Rapid Transit system linking Gosport to Fareham can continue pending a result.
The scheme had been halted in December when the legal challenge began over potential bat disturbance, but it was dismissed by the Court of Appeal.
On Tuesday campaigners won the right to an appeal at the Supreme Court, but an injunction halting work was refused.
'Devastating impact'
The route was approved by county council planners last year, but resident Vivienne Morge argued it would have a devastating impact on wildlife.
After losing at the Court of Appeal in June, she vowed to take her case to the Supreme Court.
After Ms Morge lost at the Court of Appeal, work on the scheme was able to begin, with the building of an embankment to divert traffic ahead of the route's construction.
The project must be finished by spring 2011 to qualify for government funding.