Isle of Wight wedding venue allows only four guests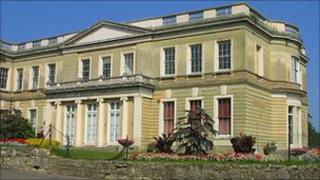 Some couples planning to get married on the Isle of Wight may only be able to invite four guests, following council spending cuts.
The council has used a room, for 40 people, at Northwood House in Cowes for ceremonies, but is now withdrawing services from the Victorian building.
From September ceremonies will be held at an office at Seaclose Park, Newport, which can only fit in four guests.
The council is looking at larger venues including Ventnor Botanic Gardens.
It hopes to license the gardens, and a second room at Seaclose Park, which will be available at weekends and accommodates up to 15 guests.
'Good choice'
The four-person limit at Seaclose does not include two registrars and the wedding or civil partnership couple.
Chris Mathews, head of democratic services at Isle of Wight Council, said: "The choices of the central location afforded by Seaclose - with picture opportunities at the riverside - and the exotic and natural appeal of Ventnor Botanic Gardens should offer couples-to-be a good choice of council-run facilities in which to hold a ceremony."
A council spokesperson added "conditions are no longer suitable to host ceremonies" at Northwood House and over the past five years the upkeep of the property has cost £250,000.
The registrars, who provide a service for the registration of all island births, deaths, marriages, civil partnerships and citizenship ceremonies will in future be based at Seaclose Park.
Twenty-five privately owned properties are also licensed for marriage ceremonies on the Isle of Wight.