Fordingbridge deaths: 'Potential weapons' seized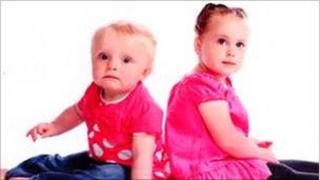 A number of "potential weapons" have been seized at a Hampshire house where a family of four were found dead, police have said.
Andrew and Vicky Case and daughters Phoebe, two, and Nereya, one, were discovered in Fordingbridge on Monday.
Mrs Case died from knife wounds and her husband died from hanging. Tests on the girls were inconclusive but there were no signs they had been stabbed.
Police said forensic tests would be carried out on the items found there.
Acting Supt Gary Cooper said: "Detectives are still exploring the circumstances that led to this tragic incident and would appeal for anyone who knew the family to contact them with any information that may assist their investigation.
Remembrance services
"They would also like to hear from anyone who had contact with the family, or saw the family, after 1400 BST on Saturday."
It has also emerged Mr Case had filed an alternative to bankruptcy, known as an Individual Voluntary Arrangement (IVA), at Salisbury County Court in 2006.
The arrangement, which usually lasts a period of about five years, is still listed as "current".
An IVA requires a person to pay back as much of their debt as they can afford, after which the balance is written off.
Police are investigating whether Mr Case, 33, killed his wife, 31, and children before hanging himself.
Post-mortem examinations on the children were carried out at the Royal Hampshire County Hospital in Winchester on Tuesday afternoon but further tests will be required.
The ambulance service had said on Monday that the girls were found stabbed.
Remembrance services are to be held at St Aldhelm's Church in Sandleheath and St Mary's Church in Fordingbridge on Monday.
The family of four were popular and well-known members of their community, neighbours have said.