Picture released in Southampton stream murder inquiry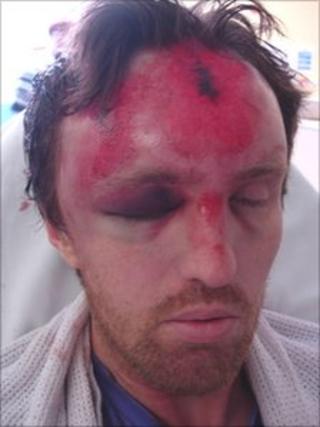 A picture of a man at the centre of a murder inquiry after he was found dead in a Southampton stream has been released by police.
Shawn Williams, 42, (also known as Simon) from Woolston, was found near Springford Road, Coxford, on 20 July.
Police think he discharged himself from Southampton General Hospital on 3 July after suffering head injuries during an attack near Princes Court in Northam.
His family released the photograph in the hope people will come forward.
A police spokesman said Mr Williams did not make a complaint, but police are treating his death as suspicious.
Det Chief Insp Dave Powell said: "We've released this image showing Shawn Williams after he was assaulted in the hope that someone living locally will have the courage to speak out and help us lock up who did this.
"Shawn's parents have allowed us to release this picture as they want us to find the person, or people, who murdered their son.
"We cannot allow whoever killed Shawn to walk the streets.
"People living in the estate have the key to helping us solve this and I cannot imagine what Shawn's family are going through."
Officers believe Mr Williams, of Victoria Road, was assaulted as he walked through Northam estate.
At the time Mr Williams was discovered, he was wearing an extra large size purple round-neck T-shirt and dark blue trousers. He was also wearing Asics Gel trainers.
Mr Williams has been described as of athletic build, 6ft 5in (1.95m) tall with ginger hair and weighing approximately 17-18 stone (107.95 114.3 kg).