Hampshire police pilots fitness test for all officers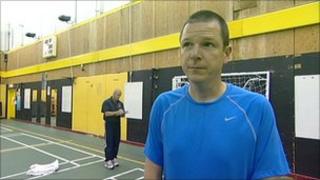 Hampshire Constabulary has begun a controversial programme to assess the fitness of its serving police officers.
Men and women applying to join a police force in England and Wales must pass a fitness test only at recruitment stage.
Chief Constable Alex Marshall, who has introduced an annual running test, says the move is a way of ensuring he has "fit and healthy staff".
However, the Hampshire Police Federation said it is concerned for those officers "in poor health."
Under the pilot, which started in early July, any officer who fails the test will be put on a "development re-training" programme by a fitness instructor - employed by Hampshire police - for about eight weeks.
It is understood they will be expected to take the test again after that period.
Chief Constable Marshall told BBC News: "This is not a way of cutting the workforce, this is a way of making sure I have got fit and healthy staff who are fit enough to do the job of an operational police officer.
'Poor physical shape'
"When we finish the pilot at the end of the first year, if people are still not fit enough to perform the role after help, training and guidance then there are serious questions to ask about whether they are suitable to be police officers."
But John Apter, from Hampshire Police Federation, told BBC News: "There can be a whole range of reasons why officers fail the test - ill-health, they have recently undergone surgery or generally, they are just in poor physical shape.
"The concern for the police federation is what happens to those individuals?"
According to the federation only a few police forces in England and Wales have introduced such tests.