Nursing home rated 'adequate' before immigration raid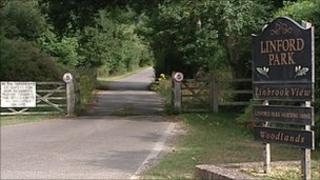 A private nursing home at the centre of a suspected illegal immigration probe was rated "adequate" in its last care quality inspection.
Police targeted Linford Park Nursing Home in Ringwood, Hampshire, on Thursday after concerns over a resident's care.
A total of 13 people were detained in a raid by UK border officials and four staff members arrested.
An inspection was carried out by the Care Quality Commission in February.
No-one from the privately-run home was available for comment when called by the BBC.
Hampshire social services is moving frail and vulnerable residents to emergency accommodation, following the raid.
'Clean and tidy'
Jennifer Dickins, from the Care Quality Commission, which is the independent regulator of health and social care in England, told the BBC "a number of issues" were found related to the delivery of care for individuals.
However it was not deemed that action was immediately needed.
"We expect the service that's registered to be able to change delivery of care to meet the changing needs of the individuals living there and we found that wasn't happening," she said.
"We also noted there were issues with medication and so overall the delivery of care wasn't good enough.
"Some people were being cared for appropriately and there were some issues that needed improvement and we raised this delivery with the provider."
The commission did report the service had an "effective assessment procedure" in place and a range of activities available to meet the needs of residents.
Staff were also seen "interacting well" with residents in general and were observed to be giving them choices.
Staff members arrested
It said the home was clean and tidy and had a "robust recruitment process" to ensure service users are protected.
As of Friday, 11 people who remain in detention include eight women from Ghana, Malawi, and the Philippines and three men from Ghana and the Philippines. Two detainees have been released on immigration bail.
Three staff members, a 62-year-old man from Christchurch, a 61-year-old woman from London and a 78-year-old man from London, were arrested on Thursday and bailed until October.
The fourth person, a 47-year-old man from Ringwood, was arrested on Friday.
A police spokeswoman said: "It is believed that those arrested are responsible for the management of the care home or for the care of the residents."