Silent church tributes for Fordingbridge family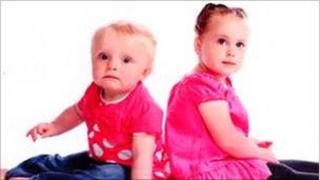 Hundreds of people observed a minute's silence at two simultaneous church services a week after a family were found dead in their Fordingbridge home.
Andrew and Victoria Case and daughters Phoebe, two, and Nereya, one, were found by the children's grandmother.
Tests into the girls' deaths were inconclusive, but Mrs Case died from stab wounds and Mr Case from hanging.
Acts of remembrance were held at St Mary's Church, Fordingbridge, and St Aldhelm's Church, Sandleheath.
The 30-minute services included the lighting of candles, prayers and readings.
Music included Pie Jesu and the reading Walking With Grief.
Recently baptised
Enya's Hope On The Road was also played and the hymn Lord Of All Hopefulness sung before many lit a candle in memory of the family.
A prayer has been available in the churches since the deaths.
Part of it said: "In this time of perplexity we pray for the souls of Vicki, Phoebe, Nereya and Andrew who died in such tragic circumstances."
The St Aldhelm's service was in the same church where Phoebe and Nereya were recently baptised.
The Reverend Tracy Robinson said: "This tragedy has touched many people in our community.
"The family was well known in the area, especially Vicki through her work at St Aldhelm's Nursery in Sandleheath."
The family were thought to have had money problems with Mr Case, 33, an HGV driver, repaying cash since 2006.
It emerged he had filed an alternative to bankruptcy, known as an Individual Voluntary Arrangement (IVA), at Salisbury County Court in 2006.
The arrangement, which usually lasts a period of about five years, is still listed as "current".
An IVA requires a person to pay back as much of their debt as they can afford, after which the balance is written off.
Mrs Case, 31, who ran a nearby nursery, is also thought to have owed money on credit cards.
On Thursday, police said a number of "potential weapons" had been seized at the family home in Provost Street.
Inquests into all the deaths are due to be opened on Tuesday morning in Southampton.