Wife found dead on Isle of Wight had injuries to neck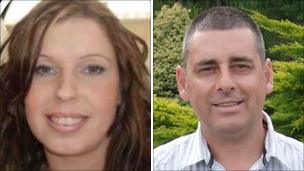 A woman found dead with her husband in their Isle of Wight flat while their sons played nearby had suffered neck injuries, an inquest has heard.
The bodies of Amanda and Barry Harrison and were found inside the top flat of Regal Court, High Street, Shanklin, on Monday evening.
Their two sons, aged three and five, were discovered unhurt in the hallway.
The death of Mrs Harrison, 34, is being treated as suspicious. Mr Harrison, 47, was found hanged in the loft.
His death is not being treated as suspicious.
The inquest at Newport Coroner's Court heard that the pathologist had been unable to establish exactly how Mrs Harrison died but that she had apparent injuries to her neck.
Further tests will be carried out on her body to to establish a "direct" cause of death, the hearing was told.
Mr Harrison's cause of death was confirmed as hanging.
The court heard how a family member had had difficulty contacting the couple so a family friend, Pat Cannon, who also works as a manager for the block of flats, went to check on them.
The elder son answered door and said both parents were asleep.
Mrs Harrison was found on the floor of the bedroom and her husband was discovered hanging by a rope from the open loft hatch in the same room.
The couple used to lived in Warwickshire and were former employees of the Peugeot Ryton plant which shut in 2007.
Coroner's officer Richard Leedham said: "Both were found in the early evening of Monday August 9, as a result of a family member having difficulty in having contact with them.
"A friend of the family attended the address, the door was opened by the eldest son who indicated that both parents were asleep.
"The friend saw what had occurred and took both children from the flat.
"Emergency services were called and police attended."
The two young sons are now staying with a family friend, a police spokesman said.
The families of Mr and Mrs Harrison described them as "one of the nicest men you could ever meet" and "a loving, hard-working and devoted mother".
The inquest was adjourned to a later date to be confirmed.
Related Internet Links
The BBC is not responsible for the content of external sites.