Royal Navy flagship HMS Ark Royal returns to Portsmouth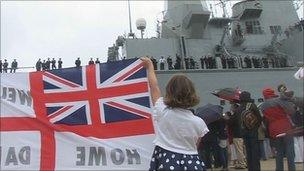 Two warships, including the Royal Navy's flagship HMS Ark Royal, have arrived back in Portsmouth after a four-month deployment.
Hundreds of people turned out to welcome home Ark Royal and the Type 42 destroyer HMS Liverpool.
The ships, with 650 sailors onboard, were returning from exercises in the North and West Atlantic.
The exercises were designed to show the UK's capabilities to keep a task force at sea for a prolonged period.
The ships were part of the Carrier Strike Task Group, which involved a total of about 2,000 UK, US and French personnel.
Devonport-based Type 23 frigate HMS Sutherland and Royal Fleet Auxiliary vessel Fort George also took part, as did the French submarine FS Perle and US destroyer USS Barry.
The mission, known as Exercise Auriga 2010, was hosted jointly by the US Navy and the Canadian Navy, with the aim of enhancing the task group's operational capability.
Commanding Officer of HMS Ark Royal, Cpt John Clink, said: "Ark Royal as the Carrier Strike Group Flagship has had a successful deployment and it is thanks to the hard work of the ship's company that we have achieved so much.
"I think we can be justifiably proud of a job well done as we strive to prove and improve our capabilities - all very fitting for a ship which celebrates her silver jubilee this year."
Commodore Simon Ancona, who led the deployment aboard HMS Ark Royal, said: "The east coast of the United States is literally tailor-made to support our needs - the exercise areas, assets and ranges form a sort of carrier 'gymnasium' for testing strike and amphibious capabilities.
"The Auriga deployment was designed to take full advantage for both our Carrier Strike and Amphibious Task Group capability development."
Related Internet Links
The BBC is not responsible for the content of external sites.