Purbeck ball clay mining museum receives EU grant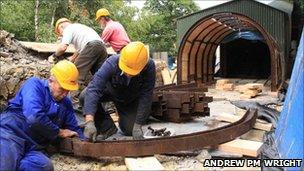 A museum dedicated to Dorset's 2,000 year-old ball clay mining industry could open within a year after receiving a £100,000 EU grant.
Volunteers have been dismantling a mine building and re-erecting it beside Norden Swanage Railway station in preparation for the project.
The European Agricultural Fund for Rural Development cash should see the museum open in summer 2011.
The museum will re-create mine workings and a mile-long narrow gauge railway.
Ball clays produce a fine quality ceramic and were used by 18th century potters including Wedgwood and Spode.
Purbeck Mineral and Mining Museum Group chairman Peter Sills said: "The grant will kick start and fast-track the opening of the mine to the public and enable us to achieve in 18 months what it would have taken us six to eight years to achieve."
The volunteers have also raised an additional £45,000 towards the project.
Related Internet Links
The BBC is not responsible for the content of external sites.