Fiancee blames Ivory Wave legal high for sea death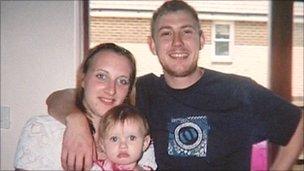 The fiancee of a man whose body was found off the Isle of Wight said she did not get the chance to tell him she was pregnant with his second child.
Michael Bishton was discovered by a fisherman off Whitecliff Bay, near Bembridge, on Saturday.
His partner Sammy Betts, 21, mother of his 18-month-old daughter Alesha, said the 24-year-old was "a great dad".
She said the chef had recently become paranoid at home after taking the "legal high" Ivory Wave.
Hampshire Police said Mr Bishton's death was not being treated as suspicious and a post-mortem examination was due to be carried out in due course, which will include toxicology tests.
The couple, who lived in Ryde, met just over two years ago at a nightclub in the island.
In an interview with BBC News, the mother-of-one said: "I found out I was three weeks pregnant and I didn't get the chance to tell him. I was so happy and it was a nice surprise.
"He was so caring and he was great with Alesha, always making her laugh.
"We were so happy together and I loved him I'm just heart-broken and miss him so much."
Mr Bishton had recently started work as a chef at the Pondarosa Inn and Restaurant in Ryde.
The mother-of-one said that Mr Bishton had previously used the legal high Ivory Wave, which is sold as a relaxing bath salt for up to £15 a packet, but had told her he had stopped.
She said she wanted to warn others of the psychological dangers of the drug.
"It scared him, he was getting paranoid thinking people were in the house," she added.
"He had been running upstairs in the house thinking someone was in there and running around the garden at night thinking someone was in the bushes.
"They should get rid of it off the streets. Get rid of them all. It could happen to someone else."
Ivory Wave is one of many so-called legal highs available in the UK, the most notorious of which was mephedrone until it was made illegal in April following a tabloid newspaper outcry.
Many of the deaths suspected by police and relatives to have been caused by mephedrone subsequently emerged not to have been down to the drug.
An inquest is expected to be opened and adjourned into Mr Bishton's death at Newport coroner's court on Wednesday.
Related Internet Links
The BBC is not responsible for the content of external sites.