Memorial service for Southampton boss Markus Liebherr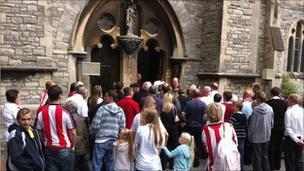 Hundreds of fans turned out to a service honouring Southampton Football Club's late owner Markus Liebherr.
The Swiss businessman, who died on 10 August, took over the club last year and lifted it out of administration.
The memorial in honour of the 62-year-old was held at St Mary's Church where the club was founded 125 years ago.
Fans wearing the team's official red and white colours, were allowed inside the church, joined by players, local dignitaries and the Liebherr family.
St Mary's Stadium and the club's store inside the West Quay shopping centre have been closed as a mark of respect.
Fans paid tribute to the man who many said had "single-handedly" rescued the club.
Lifelong supporter Steve Noice, from St Deny's, who was with wife Lyn, said: "He will be sadly missed. If it wasn't for him there wouldn't be a Southampton Football Club now and all Southampton supporters owe him a debt."
Mother-of-two Yvonne Broomfield, who had travelled from Worksop, Nottinghamshire, wept as she paid tribute.
"We're very proud of him," she said.
"He meant the world to the club and saved us from extinction. He saved the Saints."
Former Saints ticket office worker Lorraine Wheeler, of Romsey, Hampshire, said: "He kept us going. Although we didn't know him very well, it feels as though we did."
Under-15s academy player Jake Flannigan read the poem Success by Bessie A. Stanley with the many poignant words heard by the 270 fans who had managed to pack inside the church and those who gathered outside to listen.
Southampton City Council leader Royston Smith led the tributes inside and said Mr Liebherr had rescued the club from the "darkest days" in its 125-year history.
"He could see that Southampton Football Club fans are amongst the most loyal in the world," he told the congregation.
"He gained the respect of all those who met him and the thousands of fans who saw him smiling in the stand at the Saints' matches."
Mr Smith explained that the club meant so much to the people of Southampton.
"When the club performs well, so does the city," he added.
Related Internet Links
The BBC is not responsible for the content of external sites.