Arrests made after 'Ivory Wave' raids on Isle of Wight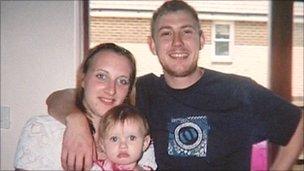 Two men have been arrested after a raid on shops suspected of selling drugs and the legal high Ivory Wave.
The shops, in Ryde High Street and Orchard Street, Newport, Isle of Wight, were targeted on Wednesday.
The men were held on suspicion of being involved in the supply of a class B drug, distributing a harmful substance and supplying hazardous materials.
Michael Bishton, 24, died after falling from cliffs in Bembridge last week. It is claimed he had used the legal high.
However, police have stressed there is no evidence to confirm a link between legal high substances and Mr Bishton's death.
The father-of-one, of Ryde, was discovered by a fisherman in the sea on Saturday hours after he had been reported missing.
An inquest into his death was opened and adjourned at Isle of Wight coroner's court on Wednesday.
A post-mortem examination revealed he died from a brain injury, skull fractures and a multi-organ injury.
The results of toxicology tests are expected in several weeks' time.
It has emerged Mr Bishton had been under the supervision of a mental health team after his family believed he had taken the now-banned drug mephedrone.
His fiancee Sammy Betts, 21, told the BBC she believed he had occasionally used Ivory Wave and had become paranoid, believing people were inside his home and running around the garden with a knife.
Police said the arrests were not directly linked to inquiries into Mr Bishton's death, which is not being treated as suspicious.
The men, a 32-year-old from Sandown and a 49-year-old from Newport, were arrested and questioned by detectives.
They have been released on bail until October pending further inquiries.
Ivory Wave, described as relaxing bath salts, is sold for about £15 a packet.
It is one of many legal highs available in the UK. The drug mephedrone was outlawed in April.
Related Internet Links
The BBC is not responsible for the content of external sites.