Liebherr family to retain Southampton FC ownership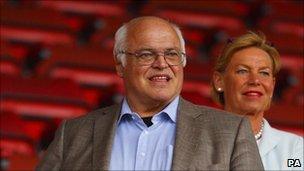 Southampton Football Club is to stay "solely" owned by the family of Markus Liebherr, who died last week, the club has said.
Mr Liebherr, who took over the club last year, died suddenly on 10 August.
In a statement, club chief executive Nicola Cortese said: "Markus' family are fully supportive of Saints and in fulfilling Markus' legacy."
Fans, who credit the Swiss businessman with saving the club, have welcomed the announcement.
Mr Cortese said: "The way in which the Saints family has come together to remember Markus has only reiterated my desire to fulfil the promises and plans that he and I made."
Clive Foley from Southampton Independent Supporters Association welcomed the announcement.
He said: "The club needs stability. There was tremendous feel-good factor last season.
"This has obviously been a major shock. We need to get back to the hard work of being a football club."
Hundreds attended a memorial service for Mr Liebherr on Wednesday, while shirts and other memorabilia were also left at St Mary's Stadium in an impromptu tribute to the late owner.
Mr Cortese added: "On behalf of the family, I would also wish to pass on my deepest gratitude and thanks to our fans for their support and tributes to Markus."
Related Internet Links
The BBC is not responsible for the content of external sites.