Call to rethink end-of-life ward closure at QA hospital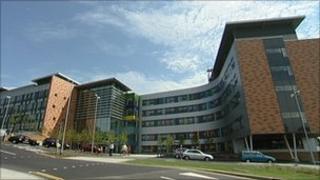 An MP has called for plans to close an end-of-life care hospital ward in Portsmouth to be reconsidered.
The Queen Alexandra's G5 unit, which offers care to dying patients aged over 65, will be replaced with a mobile nursing team offering bedside care.
Portsmouth South MP Mike Hancock said the move was "disastrous" for patients.
The hospital, which underwent a £225m expansion last year to equip it with more single bedrooms, said the closure was due to the ward being under-used.
Portsmouth Hospitals NHS Trust said it had reinvested £160,000 into a new "model" of end-of-life care, which would be of "great benefit" to all patients.
'Not stepping back'
Liberal Democrat MP Mr Hancock, who wrote a letter to Health Secretary Andrew Lansley asking for the plans to be reconsidered, said his constituents had been angered by the proposals to replace the 14-room unit.
"It's going to be extremely difficult to work out, there's going to be a shortfall in the provision and that is not right.
"People are really upset about it and believe it's a very successful thing."
Julie Dawes, the trust's director of nursing, said discussions would continue with patients and their families about how end-of-life care was handled.
"It is important to the trust that all patients who require end-of-life care receive the comfort and care they deserve, and this new, unique model will ensure that," she added.
Chrissie Monck, vice-chairman of independent patients' welfare group Portsmouth LINK (local involvement network), which had been consulted over plans, admitted there was opposition at first.
"A lot of people want to to be with the nurses who have cared for them throughout and the nurses do build up a relationship with the patients," she added.
"We have been assured that when it closes they will train more staff and have a mobile team that will walk around to see patients.
"But we're not stepping back and accepting what we are being told. We are having meetings and are being consulted."