Dead soldier's parents 'betrayed' after case dropped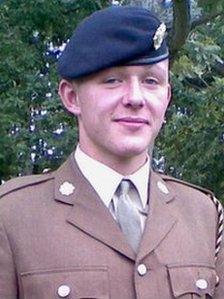 The parents of a soldier who died after being assaulted outside a bar said they have been "betrayed" by the justice system after the case was dropped.
Pte Matt Brooks, 18, from Trowbridge in Wiltshire, was assaulted near Yates's bar in Portsmouth on 13 May.
Dean Aldcroft, 21, was charged with manslaughter and common assault but prosecutors conceded they could not disprove he acted in self defence.
Pte Brooks' parents said they were "bitterly disappointed".
Winchester Crown Court had heard that after having "carefully reviewed" the case against Mr Aldcroft, of Warwick Crescent, Southsea, prosecutors had proposed dropping the charges.
Pte Brooks was serving in the Army's Royal Logistics Corps and was enrolled on a course at HMS Sultan, in Gosport, when he was injured in the car park in Alec Rose Lane, behind Guildhall Walk, shortly before midnight.
He suffered serious head injuries and died five days later at Southampton General Hospital.
In a statement Pte Brooks' parents, who did not want to be named, added: "We are bitterly disappointed by the decision of the Crown Prosecution Service (CPS) to discontinue the case.
"Mr Aldcroft has claimed self defence. Unfortunately there is no CCTV covering the area of the car park where the second incident took place.
"The onus to disprove this lies with the police.
"In our UK law, the rights and privileges afforded to an offender outweigh that of the victim and police.
"We feel betrayed by the UK justice system."
Paying tribute to their son they said: "Matt was truly a remarkable young man, and had a bright future within the Army, which had been identified by his commanding officer.
"He is going to be deeply missed by everyone who knew him.
"They say some people make a difference; Matt was one of those people."
Related Internet Links
The BBC is not responsible for the content of external sites.