'Smallest paddle steamer in UK' to be auctioned off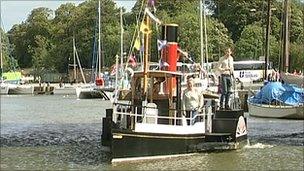 A commercial paddle steamer, described as the smallest in the UK, has been put up for sale.
The PS Monarch, which carries only 12 passengers and is 42ft (12.8m) long and 15ft (4.5m) wide, will be auctioned on the Isle of Wight on Saturday.
The vessel, which was built 28 years ago, has been making trips from Newport along the River Medina. Its owners said they would be upset to see it go.
The Island Auction Rooms said it had received inquiries from New Zealand.
Monarch's owner and chief engineer, schoolteacher Ian Rees, said: "I have always been into steam engines [and] she has a compound engine.
"We [Mr Rees and his friend and skipper Matt O'Crowley] saw her up for sale on the internet, we had too much to drink and we bought the paddle steamer three years ago.
"To us, she is like a child. It will be really upsetting when she goes."
Mr O'Crowley, who is joining the Merchant Navy, said: "Ideally, I would really like to see her stay in the UK.
"When we got her she was falling to pieces, she really was scrap and it took only nine months to get her into working order.
"It took me a year to drive her in a straight line and it was very hard because there was nobody to ask."
He added: "There are only two other small paddle steamers and they are the Waverley, based in Glasgow, and the Kingswear Castle in Medway in Kent."
Tim Smith, from Island Auction Rooms, said: "To have an item like this in the sale is exceptional.
"There is worldwide interest already and I am hoping there is going to be a lot of interest on the internet as well."
The reserve price is £35,000.
Related Internet Links
The BBC is not responsible for the content of external sites.