TV appeal over Southampton man found dead in stream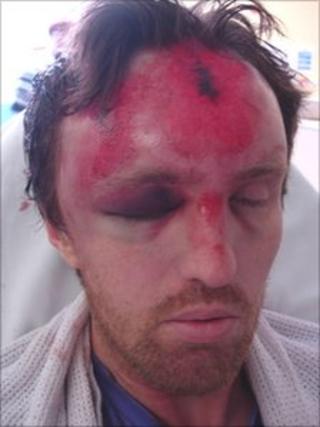 Officers looking for whoever attacked a man later found dead in a Southampton stream are appealing for help on the BBC's Crimewatch show.
Shawn Williams, 42, (also known as Simon) from Woolston, was found near Springford Road, Coxford, on 20 July.
He discharged himself from Southampton General Hospital on 3 July after suffering head injuries during an attack near Princes Court in Northam.
Officers believe the assault led to his death and are treating it as murder.
Mr Williams never made a complaint about it and his family later released a photograph showing his injuries in the hope people would come forward.
Officers believe Mr Williams, of Victoria Road, was attacked from behind as he walked through Northam estate between 0730 and 0830 BST.
Det Chief Insp Dave Powell will appear on the programme later to appeal for help to catch his attackers.
'Gentle giant'
He said: "The investigation team has always believed the assault in Northam led to Shawn's death and the clue to solving this murder lies within that community.
"Shawn was a gentle giant, a quiet man. He took an early morning stroll and paid with his life.
"Someone must know who is responsible for that assault. I am appealing directly to people who live in, or visit, the Northam estate.
"Have you heard anyone speaking about this? Did you see the assault? You might be a mum, a dad, a brother or a sister, you may be a friend. Don't keep your information secret, ring in and tell us what you know.
"I need names and I need to know the person or people responsible and find some justice for Shawn's family."
The appeal will feature on Crimewatch on BBC One at 2100 BST.