Isle of Wight crash pilot 'once saved 100 lives'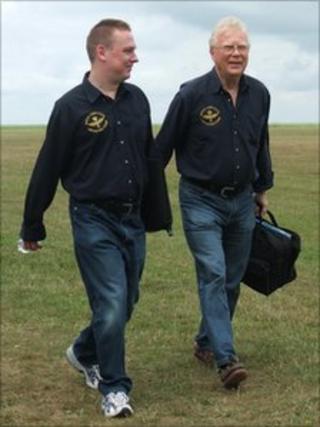 A retired pilot who died alongside his son in a mid-air collision in a race on the Isle of Wight had once saved the lives of more than 100 passengers.
Michael Willis, 73, and James Willis, 42, both from London, died when their plane collided with another aircraft and came down in woodlands on Saturday.
They were taking part in the Merlin Trophy race from Bembridge Airport.
His family said that in the 1970s Mr Willis landed a plane with 100 tourists after it was damaged in bad weather.
Jonathan Willis, 38, from Harpenden, Hertfordshire, said: "My father Michael was a lively man who was fun to be around.
"He was a retired airline pilot who once landed a plane carrying more than 100 passengers with no navigation or communication systems after damage in bad weather.
"Shortly after leaving Palma at night, hail stones detached the aircraft's nose cone, causing a complete electrical failure.
'Great brother'
"After the thunderstorm cleared, Dad navigated using the North Star, Paris, and the Edgware Road to land the aircraft safely at Luton Airport."
Speaking of his older brother, Mr Willis added: "James was not just a great brother but also a great friend. He was kind, thoughtful and generous.
"He had a good sense of humour, was loved by his wife and adored by his children.
"Although not a pilot himself, James had a great interest in aviation and frequently navigated for Michael at air races.
"He also enjoyed recording and producing electronic music."
Mr Willis Snr, of Green Lane, Stanmore, north London, and Mr Willis Jnr, of The Dingle, Hillingdon, west London, had been flying in a four-seater Mooney M20B.
The aircraft broke up mid-air after the collision and plummeted into remote woodland near the village of Havenstreet, killing the pair.
The second plane managed to land back at the airfield.
The two men on board, the 32-year-old pilot from Ryton, Coventry, and the 55-year-old navigator from Iver, Buckinghamshire, were both taken to hospital and later released.
The Air Accidents Investigation Branch are investigating the collision.
Race organiser Mr Wassell, chairman of the Royal Aero Club Racing and Rally Association, organisers of the Schneider Trophy, said the crash happened at the end of the Merlin Trophy race, a precursor to Sunday's main Schneider Trophy, which was cancelled.