Fourth boy arrested over Basingstoke building site fire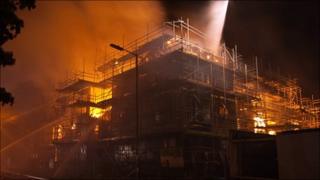 A fourth boy, aged 12, has been arrested on suspicion of arson after a large fire swept through a Hampshire building site.
More than 100 firefighters tackled the blaze at the flats under construction in Gershwin Road, Basingstoke, on Friday evening.
About 40 people were forced to leave nearby homes, but were allowed to return on Saturday evening.
Three 15-year-old boys have already been arrested.
All four boys have been released on bail until 3 November while inquiries continue.
Police said a witness saw two youths running from the area before the fire.
During the fire, there were fears the flats could collapse and two cranes on site were damaged.
About 50 surrounding homes and Brighton Hill Community College were also affected by smoke and falling pieces of burning ash.