Nine rescued after tanker emergency drill accident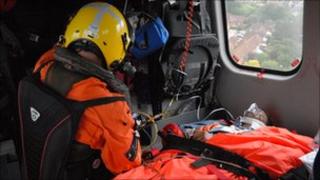 Nine crew members from a tanker had to be rescued after three were injured and six others were thrown into the water when their rescue boat capsized.
The men from the British Cormorant were carrying out a drill with their rescue boat when one of the lines holding it in place snapped, coastguards said.
Three on board the tanker were injured while six, who had been on the rescue boat, were thrown into the water.
They were winched to safety five miles east of Ventnor off the Isle of Wight.
The three injured on board the ship on Monday were flown to hospital.
The Bembridge RNLI lifeboat recovered the tanker's rescue boat, which has now been taken for inspection, a spokesman said.
Solent Coastguard watch manager Lucy Tanner said: "Fortunately, all were wearing life jackets which ensured that they all remained afloat and visible to the aircraft crew.
"Inspectors from the Maritime and Coastguard Agency and the Marine Accident Investigation Branch are now on board the vessel to conduct an investigation into what happened."