Large snake found in New Forest car park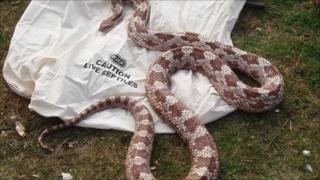 A large snake has been found in a car park in Hampshire's New Forest.
The non-venomous grey rat snake was found in the Crockford Clump car park on the B3054 at Beaulieu on Friday afternoon, and collected by the RSPCA.
Police said they were unsure if the 6ft (1.8m) long snake had been stolen, abandoned or had escaped.
Pc Alison Tilbury, of Hampshire Police, said: "Please look at the picture and contact the police if you have any information about the snake's owner."
The grey rat snake, which was found by a member of the public, is native to north America and in the wild they spend most of their time climbing trees.
They mostly eat mice and rats and are also known to feed on birds and bird eggs.