London Olympic horse killed in New Forest 'attack'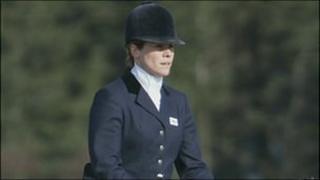 An equestrian says her Olympic dream is over after her horse was found dead after an apparent knife attack in the New Forest.
Charlotte Springall had hoped to ride Folds Gretna Vow in the 2012 Games in London.
But the horse was found with a gash wound on Folds Farm House, Godshill Wood, last month.
Police said the injury could have been caused accidentally but have urged owners to be vigilant.
'Time and effort'
The horse died from asphyxiation due to a punctured diaphragm and tests did not find any evidence that Ms Springall's horse had been wounded after impaling itself.
Ms Springall said she was convinced it was a deliberate attack.
She added: "She had a large wound to her left underarm which went from her chest up to her shoulder. It looked like a stab wound.
"There were no wood pieces or anything found in her wound.
"She is in a field with nothing in it so it was very suspicious.
"I heard about another horse with a four-inch gash on her leg... and because the circumstance was so extraordinary it seemed to make sense that it was a deliberate attack.
"It has dashed my Olympic hopes totally. I broke her, I produced her, it takes years and lots of time and effort.
"I now have to look towards 2016 with my young horse."
Police have encouraged anyone in the area to come forward if they have seen any suspicious activity.
Sgt Louise Hubble, Hampshire police countryside officer, said: "We have had a small number of reports concerning injuries to horses.
"There is no conclusive evidence as to how these injuries were caused but it is important to recognise that hoses are prone to picking up injuries due to their nature.
"We do not want to alarm horse owners unnecessarily but would remind them to be vigilant and to report anything suspicious to the police. We will take reports seriously and will investigate and listen to your concerns."