Service to install Bishop of Portsmouth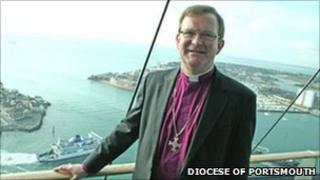 Crowds of worshippers have attended a service to install the ninth Bishop of Portsmouth.
The Right Reverend Christopher Foster was announced as the new bishop of the diocese earlier this year.
The service, which took place at 1500 BST at Portsmouth Cathedral, was accompanied by the cathedral choir.
Bishop Foster succeeds the Right Reverend Dr Kenneth Stevenson, who was bishop for 14 years until he retired last autumn.
On Sunday, a welcome service will be held in Newport Minster on the Isle of Wight at 1500 BST.
The service of Evensong will be led by the Archdeacon of the Isle of Wight, the Ven Caroline Baston, and include a welcome from the Lord Lieutenant, Major General Martin White, and from the Island Church Leaders' Forum.