Scrapyard fire sparks evacuation over explosion fears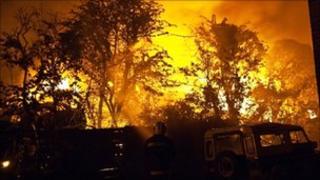 Fire crews spent more than three hours tackling a large blaze at a Hampshire scrapyard which stored gas cylinders.
An investigation into the fire, at Whiteley Lane, Titchfield Park, near Fareham, at 0100 BST, has started and police are treating it as suspicious.
A 200m (656ft) exclusion zone was set up because of a risk the cylinders, containing acetylene, could explode.
Residents living at nearby Tynefield caravan park were evacuated and about 65 vehicles were destroyed by fire.
Tyres exploded
Police said they believed the fire, at Solent Scrapyard, started after a vehicle was driven on to the site and have appealed for witnesses.
Hampshire Fire and Rescue Service said flames were up to 60ft (196m)high and tyres exploded.
Group manager Tony Deacon said the fire was "well developed" when crews arrived.
"Thick smoke... was dangerously close to affecting a neighbouring residential property," he added.
"There were also a number of explosions from fuel tanks and cylinders.
"Acetylene cylinders are extremely dangerous and an explosion would affect a large area."
Residents who were evacuated from the caravan park have now been allowed back.
Ch Insp Will Schofield, of Hampshire police, said: "The fire started in a scrapyard and we believe the source of the fire was a vehicle which may have been driven on to the site.
"The fire has caused some disruption to the area so it is important we find out what caused it."