Hampshire fund-raisers in WWII Pyrenees 'freedom' trek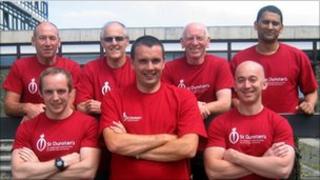 A group of fund-raisers are retracing the steps of those escaping from Nazi-occupied France over a treacherous route across the Pyrenees during WWII.
The seven trekkers who work for the Service Personnel and Veterans Agency in Gosport, Hampshire, set off on the Freedom Trail hike earlier.
They are raising cash for St Dunstan's, a charity for blind servicemen.
Also taking part in the four-day, 50-mile (80km) trek is blind forces veteran Don Planner, of Poole, Dorset.
Fleeing frenchmen
Mr Planner, 62, served in the Royal Electrical and Mechanical Engineers for 13 years but was blinded in a fuel tank explosion in 1975.
In 1996 he became the first blind person to reach the summit of Mont Blanc via the Gouter route.
If he succeeds on the latest challenge, he will become the first blind person to complete the Freedom Trail.
The route follows the path that was originally established for fleeing Frenchmen attempting to reach North Africa to join the Free French Forces during the war.
The team, which will be fully self-sufficient by carrying their own supplies, has already raised £5,000 in sponsorship for the charity.
Mick Monaghan, 61, from Fareham, is leading the group.
Before they left he said: "The whole team is hoping for an amazing experience in retracing the steps of those escaping to freedom 65 to 70 years ago.
"I've completed several long-distance treks for charity across the world but this is going to be a tough one.
"Several of us have family connections with the services and we'll be motivated by the knowledge that we are raising money for such a good cause.
"Having Don with us gives us a real boost and I'm sure he'll help us through."
Mr Monaghan was recently awarded the MBE for his charitable services.