MP warns of money shortage at Queen Alexandra Hospital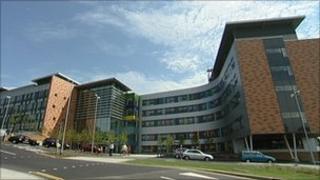 A Hampshire MP has raised concerns about budget deficits at the Queen Alexandra Hospital in Portsmouth.
It underwent a £225m expansion last year, but is now £37m in debt. Wards have closed and jobs have been cut.
Penny Mordaunt, Conservative MP for Portsmouth North, said its future resembled "a financial perfect storm".
Portsmouth Hospitals NHS Trust said it had been hit hard by national cuts of £20bn to the NHS budget and it still had an annual bill of £42m until 2039.
The expansion was funded with private sector money under a so called private finance initiative (PFI), which means it has to pay mortgage and maintenance costs.
The hospital has also seen its income drop by 9% this year, partly because it has failed to attract enough new patients from other hospitals.
'Hands are tied'
Penny Mordaunt, Conservative MP for Portsmouth North, said: "We have this wonderful new hospital but it does have a financial 'perfect storm'.
"It's got a £37m deficit, we have a PFI contract which is very demanding and ties the hands of the hospital in terms of the decisions that it makes.
"There's actually less patients going through the hospital than was originally planned, all of which makes for a very challenging financial problem for the hospital."
Ursula Ward, of Portsmouth Hospitals NHS Trust, said: "When we got treasury approval for this new hospital back in 2005 clearly it was very much affordable otherwise we would not have got that approval.
"What has happened since, as we're all aware of, is the cuts in the NHS, the £20bn - we've got to take our share in that.
"Yes, it's certainly a challenge."