Hampshire 'lettuce' e-fit plea draws blank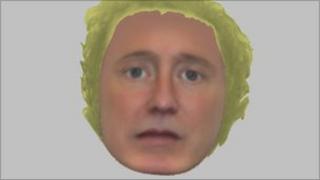 Hampshire police are yet to receive a single phone call on an e-fit appeal of a burglary suspect which looks like a man wearing a lettuce on his head.
The image has drawn worldwide attention after officers admitted having technical issues with their software program which generates suspects' hair.
The man stole £60 from an elderly woman in a distraction burglary in Stockbridge last month.
Police said no arrests have been made and no calls received since the appeal.
'Wavy hair'
A spokesman added: "It is a live inquiry and lines of inquiry are being followed up to try and find the offender."
He said the hair did not take anything away from the accurate facial features.
He added the force has no intention of releasing an improved e-fit unless the investigating officer believes it can help the case.
Police said they were waiting for a software upgrade to improve the quality of hair in future e-fits.
The offender is described as white, between 40 and 45, about 5ft 8ins, with a round clean shaven face, large round eyes and with wavy blonde or greying hair.