New Bembridge lifeboat will mean 'quicker' responses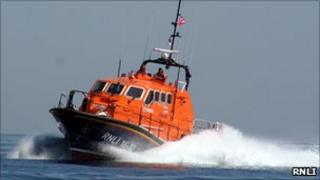 A new £2.7m lifeboat will allow RNLI crews to respond more quickly to emergencies in the Solent.
The Tamar-class lifeboat, Alfred Albert Williams, has been installed at Bembridge, Isle of Wight.
John Keyworth, RNLI spokesman, said: "The main difference is the speed. It will enable us to respond quicker than ever before."
A public appeal raised £1m for a new boat shed needed to house the craft.
The Tamar is the RNLI's latest generation of lifeboat and can reach speeds of 25 knots in harsh sea conditions.
There are also state-of the art navigation systems on board as well as specially-designed seats to ease the pressure of rough sea conditions on the crew.
Mr Keyworth said: "It's totally high-tech, taking us well into the 21st Century."
It also carries its own small Y-Class rigid inflatable lifeboat to help with rescues in shallow waters.
Busy weekend
The new vessel will go into full operational service after a period of crew training.
Bembridge is the first lifeboat station in the south east of England to have the Tamar.
Located at the east of the Isle of Wight, the volunteer crew provides coverage for the Solent and into the English Channel.
The new vessel replaces a temporary Mersey-class lifeboat which ended its time at Bembridge with an "exceptionally busy weekend" when it launched four times to rescue a total of 20 people.