Final P&O Pride of Bilbao service docks in Portsmouth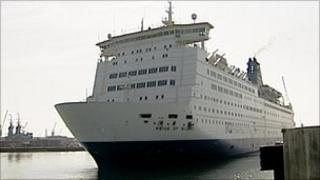 The final P&O ferry to sail between Portsmouth and Spain has docked in southern England for the last time.
The Pride of Bilbao will be withdrawn from service after the twice-weekly route was closed after 17 years.
The passenger and car ferry service, which is closing due to "unsustainable losses", arrived on Tuesday afternoon.
Brittany Ferries will take over the route in 2011, running services to Bilbao and Santander. The P&O route to France was closed in 2004.
About 800 jobs were lost in Portsmouth following the closure.
'It's galling'
Initially 252 permanent and temporary job losses were expected but P&O has managed to transfer 150 staff internally.
Spokesman Brian Rees said the service had suffered the effects of low-cost airlines and cheaper fares from rival operators.
"It's a horrible thing to do, to pull a service, but we just can't make the sums add up I'm afraid.
"It's good for Portsmouth if someone can pick the service up and particularly at the Bilbao end because there's only one ferry into Bilbao.
"We are pleased in a respect, but it's galling that someone else can see a way to do it and we can't."