Isle of Wight Red Jet ferry sailings cut to save fuel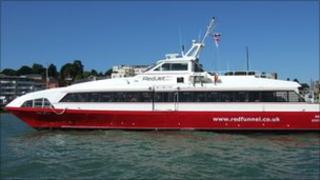 An Isle of Wight ferry company is cutting the number of crossings it makes during the winter due to rising repair costs and fuel prices.
Red Funnel's high-speed Red Jet passenger service between Southampton and Cowes will only run hourly during non-peak times from 1 November.
Red Funnel said the changes would reduce fuel consumption by 65,000 litres per month.
It will run hourly sailing on weekdays from 1115 to 1515 GMT and on Sundays.
Fleet replacement
Half-hourly services will still operate during the morning and afternoon peak periods and on Saturdays.
Lower off-peak fares for two people travelling together from 1115 GMT are also being introduced.
James Fulford, chief executive, said: "Given fuel and rapidly rising repair costs - and the eventual need to save up for fleet replacement - this is no longer sustainable.
"Responding both to these cost pressures and feedback from customers, we trialled off peak promotions during this summer where we saw an increase in passengers but no improvement in revenue.
"This new timetable has been designed to align capacity with demand through the winter when many sailings have carried far fewer people than is required to break-even."