Portsmouth black market cigarettes targeted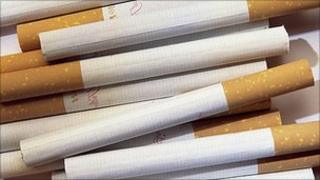 Portsmouth is being targeted in a crackdown on smuggled cigarettes.
The authorities say the black market costs £2bn in lost tax revenue, funds crime and puts cut-price cigarettes in the hands of children.
An NHS spokesman said: "It undermines the efforts we make to reduce smoking in the city."
Lorries are regularly stopped at the city's port carrying up to two million cigarettes and individuals have been found with 20,000 in suitcases.
Health costs
Portsmouth has been chosen for a joint Department of Health and HM Revenue & Customs (HMRC), campaign, The Real Cost, to cut both the supply and demand for illegally-imported cigarettes.
A survey found that 20% of smokers questioned in Portsmouth admitted they smoked illicit cigarettes, which can be bought for £2.50 to £3 a packet.
NHS Portsmouth's Paul Edmondson-Jones criticised the "pocket money prices" which made them easy for children to afford.
He said: "If children have easy access to cigarettes it encourages them to start smoking."
Organised crime
Residents are being urged to report incidents of selling of illegal tobacco.
The campaign is also highlighting the range of problems including anti-social behaviour around so-called "tab houses" where cigarettes are sold on.
Bob Gaiger, HMRC spokesman, said: "The money is going back to criminal organisations, hardened crime gangs who are using that money to fund further crime in the area."
He added that local retailers are also being adversely affected by not being able to compete with the black market in cigarettes.