'Smelly' cyclists asked to leave New Forest pub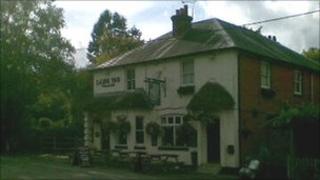 The restaurant manager of a New Forest pub has defended his decision to ask a group of cyclists to leave because of their body odour.
The 13 riders from the Lordshill Road Runners Club in Southampton were asked to sit outside at the Lamb Inn in Nomansland on Saturday.
Manager Tim Southall said other guests complained so he had to take action.
Janet Burnage said she and her fellow cyclists felt so insulted they decided to leave the pub altogether.
The group had cycled six miles (10km) before deciding to stop off for a drink.
Ms Burnage, 54, said they had vowed never to return to the pub.
Pauline Maddigan, licensee of the Lamb Inn, said her employee was right to ask them to leave the bar.
'Sit outside'
Mr Southall said: "The smell was collected from 13 people and it was quite strong.
"It's not a nice thing to say and it's certainly not something I would say for the sake of it. It's not an easy thing to say to somebody.
"But we did have a couple who moved out to the back of the pub [to get away] from it.
"I didn't ask them to leave, I just asked them politely if they would like to sit outside"
He added that he did not think the request "unreasonable" since it was a warm day and they have a lovely garden.
Ms Maddigan said Mr Southall had to consider the other customers coming in to dine and drink.
"When bar staff are complaining and customers are complaining, something had to be done and I think he was quite brave," she said.