Havant school staff taught to 'speak correctly'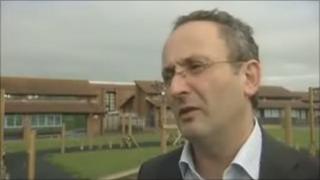 Teaching assistants at a Hampshire junior school are to get lessons in how to "speak correctly" after criticism from school inspectors.
The assistants work at the Trosnant Junior School in Havant, which has been given a notice to improve by Ofsted.
Its report said: "Adults do not always demonstrate grammatical accuracy in speaking and writing. This sets a bad example and limits pupils' progress."
Head teacher Jim Hartley said he was taking the criticism seriously.
He said he had brought in a consultant to work with some of the learning support assistants [LSAs].
Mr Hartley said: "They're having training, not in how to speak the Queen's English, but how to recognise in the children when they make a mistake and then modelling how to speak correctly if they do."
He said the issue was not whether children and staff were speaking with a Portsmouth accent, but simply concerned the correct use of grammar.
"I'm not asking the LSAs to change how they speak, but I am asking that all adults within the school can make sure that when they speak with the children that they speak correctly," he said.
"What goes out of the children's mouths goes straight down onto the page and our children need to be able to turn on good, correct language when required."