Ropley family has two dogs stolen in 12 months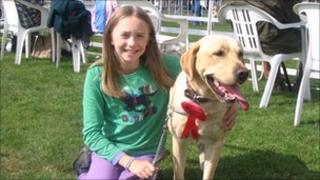 A Hampshire family have said they are devastated after having a second dog stolen from them in just over a year.
Jane and Symon Aylen's chocolate Labrador Jack was taken from their garden in Ropley on 7 September 2009.
Despite searches and appeals, he was never found and the Aylens replaced him with another yellow Labrador puppy.
But on 27 September George vanished without a trace from their garden. The Aylens think the same thieves are responsible.
Both dogs were microchipped and wore name and address tags.
No trace
Mrs Aylen, 42, told the BBC: "[Jack] was five years old and suffered from epilepsy, which is relatively severe, so we were astonished that he has not been found or handed in or turned up and scanned at a vets.
"There has literally been no trace of him since the day he went.
"We always have hope that he will return one day but our home was empty without a dog and our kids were very sad so we moved on and got a new puppy.
"George the yellow Labrador really helped us in our sadness for losing Jack."
Mrs Aylen said despite keeping gates shut and supervising George, he disappeared from their garden in the middle of the afternoon.
She added: "It is difficult to cope with the loss of one dog - but to lose two under the same circumstances is just incredible and I just don't know how to explain it to my children.
"Scarlett is 10 and is absolutely devastated, Conrad misses the dogs but is only four and manages to get on with life.
"But the coincidence of losing two around the same time a year apart makes us convinced that the first was stolen and they potentially came back for the replacement a year on."
The thefts have been reported to Hampshire Police, who are investigating.