Premier League football satellite TV case under way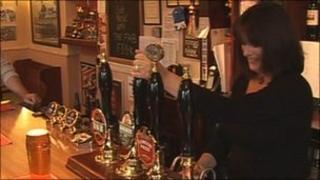 A woman convicted of breaking the law for paying a Greek satellite firm to show Premier League football in her Portsmouth pub is appealing in Europe.
Karen Murphy used the Greek firm to show Premier League matches in the Red, White and Blue pub as it was cheaper than the official UK broadcaster, Sky.
The UK's courts passed her appeal to the European Courts of Justice. A ruling is not due for several months.
The landmark case could change the way sport is sold to TV companies.
Ms Murphy was previously found guilty of breaching UK copyright laws after being caught using the Greek firm Nova by enforcers working on behalf of Football Association Premier League Limited (FAPL) - the private company which represents the broadcasting interests of the 20 English Premier League clubs.
She had to pay nearly £8,000 in fines and costs.
The Premier League's current deal with Sky is worth nearly £2bn - money the league argues is invested in maintaining the quality of the product.
Her lawyers argue that under EU single market rules, she should be entitled to buy TV services from anyone she wants.
"I think I should have freedom of choice," Ms Murphy told BBC News.
'Hugely significant'
"It's not like I went to buy something illegal. I just went to buy it from a different company."
The FAPL also has the endorsement of BSkyB, which has previously told the BBC: "This is primarily a case about how rights are licensed to broadcasters across Europe.
"While Sky is not a party to this case, we welcome the Premier League's determination to seek a definitive ruling on this issue."
Theresa Wise, a media analyst, said the case was "hugely significant... not just for the Premier League but for all other sports rights holders, for film studios, for TV producers, for music majors".
"All of them tend to sell rights by country," she added.
"If the principle of that is unpicked by this case, then all of those players need to look at a new economic model."