Dinosaur model fire on Southsea Common 'not arson'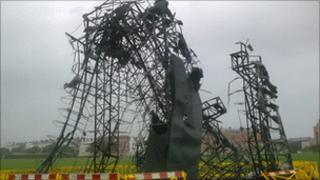 A fire which destroyed a life-size model of a dinosaur in Hampshire was not arson but probably an electrical fault, police said.
The 53ft (16m) high ultrasauros was erected on Southsea Common at the start of the summer as part of an exhibition by artists Heather and Ivan Morison.
The metal and fibreglass model had been destroyed by the time fire crews arrived early last Friday.
Police said an electrical fault in the lighting system may have caused it.
Investigating officer Pc Jack Oakley, from Hampshire police, said: "The original assessment was, of course, that the cause of the fire was doubtful.
"On closer inspection, it appears as though the severe weather we experienced in the early hours of Friday morning caused water to seep into the structure.
"That in turn could well have resulted in an electrical fault in the lighting system on the underbelly of the structure, which was powered by a generator."
The model, called Luna Park by the artists, was due to stand on the common until 10 October before being erected in Colchester and then moved to Cardiff.
It had been visible from the Isle of Wight.
The ultrasauros was thought to have been the largest dinosaur that lived, but the claims were found to be false.
Scientist Professor Jim Jensen had put together the dinosaur from many different bones, then sold the story that it was the largest dinosaur in history. He was found out several years later.