UK cruise market future growing despite fewer new ships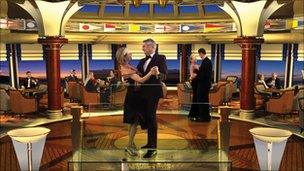 Cunard Line's Queen Elizabeth is the last of three new cruise ships dedicated primarily to the UK market to be introduced over the past 10 months, making 2010 a bumper year for the industry.
Thirteen new ships were launched globally this year, compared with nine in both last year and 2008, according to Cruise JobFinder, a website promoting employment on cruise ships.
But although at least six new ships will be launched next year none of them will be in the UK.
So does this signal a wind of change in the UK cruise ship market?
Industry journalist Phil Davis does not believe it signals a downturn for the sector.
"There may not be new ships being introduced to the UK market per se, but there is an increase in availability and capacity.
"For example, MSC Cruises is increasing the number cruises available. It is operating out of Southampton for the first time next summer.
"US companies are introducing a significant number of cruise ships into Europe and there is huge increase in the fly-cruise market to the Mediterranean."
Cruise JobFinder describes 2010, as "an outstanding year for new cruise ships" and claims "32 cruise ships under construction or on order" are to be delivered at some point between now and 2014.
BBC South Transport Correspondent Paul Clifton suggests a number of factors have contributed to the UK cruise market's "bumper" year.
"For 15 years, cruising has been booming, a couple of new ships a year.
"One in 10 package holidays is now a cruise. At £90 a day, it is mass market tourism."
He believes "the weakness" of the pound against other currencies has helped "because this is a foreign holiday you can pay for entirely in Sterling".
The rising cost of flying has also helped boost the cruise industry.
The number of passengers grew 4% in 2009 to top 1.5 million for the first time.
It is on course to reach 1.75 million in 2011 and 2 million by 2014, the Passenger Shipping Association (PSA) claimed in its report on the UK cruise market.
It also predicted an 8% increase to 1.65 million for this year.
This, the PSA believes, will be down to the three new ships introduced to the UK market this year - P&O Cruises' Azura, Celebrity Cruises' Celebrity Eclipse and Cunard's Queen Elizabeth.
PSA's report examining the the UK Cruise Market in 2009, also found six out of 10 passengers take more than one cruise a year and sales of so-called ultra-luxury cruises have increased more than 50%.
It also revealed Northern Europe is now more popular than the Caribbean with British cruise passengers and the UK benefiting "with €2.3bn (£2.01bn) expenditure and 49,000 jobs paying €1.9bn wages (£1.66bn)".
Only Italy accounts for a greater amount.
But could this continued buoyancy eventually lead to the global cruise market becoming saturated?
"There is always a danger of saturation," said Mr Davis. "But cruise ship operators plan two or three years in advance so they can move ships around."
Related Internet Links
The BBC is not responsible for the content of external sites.