Southampton and Portsmouth councils may share services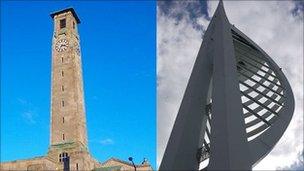 Two south coast cities with a strong history of rivalry have said they may share some council services in a bid to save money.
The leaders of Southampton and Portsmouth councils signed a deal that may lead to shared services if it is in the "joint interests" of residents.
They said the move would "allow them to deliver better services for less".
The two councils already share some services such as waste disposal and flood defence planning.
Staff and residents are being asked for their suggestions on how the two cities can work together further.
In a joint statement, the leader of Southampton City Council, councillor Royston Smith, and the leader of Portsmouth City Council, councillor Gerald Vernon-Jackson, said: "The success of our two cities is crucial to the well-being of the whole of south Hampshire.
"While there is healthy rivalry between us, our cities support and complement one another and our futures are linked.
"Our two city councils already have some shared working arrangements, and we believe that there are opportunities for greater collaboration that will strengthen our cities without undermining our distinctiveness.
"The cuts in budget needed to reduce the national deficit make it even more important that we continue to explore every opportunity to share expertise, increase our mutual efficiency and reduce costs through greater economies of scale."
Related Internet Links
The BBC is not responsible for the content of external sites.