Queen Elizabeth naming ceremony 'a privilege'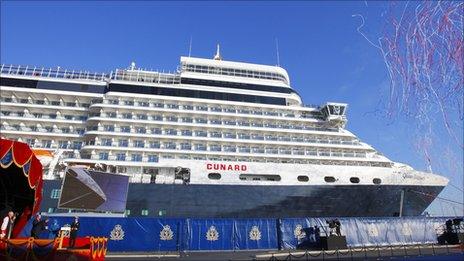 It was a special day for Southampton's Ocean Terminal and for Cunard, the penultimate event six years in the making.
Security was tight as final preparations were put in place to welcome the Queen to name the newest addition to the luxury cruise company's world-famous fleet, the 92,000-tonne Queen Elizabeth.
About 2,000 guests were invited, many of whom were dressed in elegant clothes to match the splendour of the ceremony with plenty of pomp and circumstance.
The sounds of the Bournemouth Symphony Orchestra and the choir of the Bournemouth Symphony Chorus echoed through the special arena at Southampton's Ocean Terminal.
For first violinist Tim Fisher, it was a "privilege" to have played.
"It was amazing to think that the orchestra played for the ceremony, it was a big moment," said Mr Fisher, from Poole.
"On stage there was a certain buzz - how many times in your career are you invited to play for the naming of a ship?"
Flying above them during the ceremony was former violist Peter Castle - now a commercial airline pilot, who tilted his plane's wings as a salute to his friends.
Merchant Navy deck cadets Jack Kitching, Stuart Aris and Anthony Bordoli, based at Warsash Maritime Academy, were there to welcome guests.
Mr Kitching, 22, from near Poole, Dorset, said: "It is quite a big privilege and pretty much the only time we are going to see a ship like this being launched in our career."
Mr Aris, 19, from Penrith, Cumbria, added: "It's great experience - there's a lot going on."
Veteran broadcaster Sir Jimmy Savile joked with reporters that he was "saving" for a ticket - the most expensive of which is priced at £16,000 for a grand suite.
He said: "It feels terrific because it's a great day for Britain that we have a home-grown thing like a Cunard superliner come to say goodbye before it sets off around the world forever."
Other celebrities spotted included Oscar-winning actor Sir Ben Kingsley, broadcasters Carol Vorderman, Judith Chalmers and Esther Ranzen and former Coronation Street actress Liz Dawn.
It was also a special occasion for the boys and girls from Kings Worthy Primary School, Winchester, who acted as bell boys and girls, handing out programmes to the specially-invited guests.
Schoolboy Dan Garabette, eight, handed the Queen a posy of flowers.
Classmate Elouise Hunt said: "There's lots of people and they are very fancy. It's really exciting."
Guest Caroline Lloyd, of Essex, said: "It was appropriately royal with amazing music and atmosphere."
And 29-year-old Amy Davies, from Manchester, was looking forward to gala dinner on board, which included symphony of Loch Duart salmon, citrus-scented langoustine, avocado and coriander foam, and caviar for starters.
"It was beautiful because the Queen was there and it really was once in a lifetime," she said.
"I'm really looking forward to getting on board."
Artist Sherree Valentine-Daines, who was invited to paint Captain Christopher Wells during the vessel's maiden voyage, also has an exhibition on board.
"It's wonderful and is the most exciting day of our lives," she said.
"It's fantastic and I feel very privileged to be exhibiting on board."
Her friend Helen Swaby, chief executive of Mayfair-based Clarenden Fine Art, added: "It's stunning, the service and the ambiance is pure elegance.
"There were two rows of waiters wearing the crispest, whitest uniforms."
Related Internet Links
The BBC is not responsible for the content of external sites.