Standards chief receives complaint about Portsmouth MP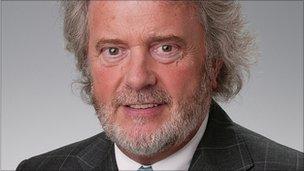 The Parliamentary Commissioner for Standards has received a complaint into the conduct of a Liberal Democrat MP.
Portsmouth South MP Mike Hancock recently denied newspaper allegations about "inappropriate behaviour" towards a female constituent.
He said all he did was offer help and support to the woman. Police said they were making inquiries after being contacted on 24 September by a woman.
A spokeswoman confirmed commissioner John Lyons had received a complaint.
She added: "The commissioner will decide whether it falls within his remit.
"He has not decided whether to accept it."
The commissioner has five days to decide whether to further investigate the matter.
Earlier, a spokesman for the Lib Dem MP said Mr Hancock had not been informed of any formal investigation.
He added that the MP would co-operate fully with police if contacted.
"Mike Hancock denies any allegations of any inappropriate behaviour and in no circumstances did any take place.
"All Mike Hancock did was offer help and support to this woman," the spokesman added.
Hampshire Constabulary confirmed "information regarding the welfare of a female from the Portsmouth area was passed [to them] by a third party on 5 August this year".
But added that "no offences were disclosed at the time".
A spokesman from the Liberal Democrat Party told BBC News: "This is a personal matter for Mr Hancock. We are unable to comment."
Mr Hancock was unavailable for comment when the BBC attempted to contact him.
Related Internet Links
The BBC is not responsible for the content of external sites.