Spending Review: Fire response 'under threat' by cuts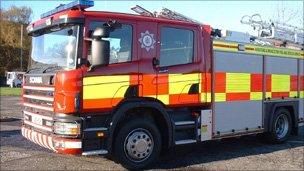 It is the moment when your whole life could be going up in flames, a fire has gripped your business.
The automatic alarm has gone off at three in the morning and alerted the emergency services.
But instead of a fire engine turning up and a crew of firefighters racing to put out the flames, a crew manager arrives in a car before deciding if a fire engine is needed.
This could be the future in Hampshire if the predicted budget cuts of up to 40% become a reality in Wednesday's government Spending Review, the Fire Brigades' Union (FBU) has warned.
The south coast force has recently experienced first-hand the dangers firefighters can face, with the deaths of two crew members at a block of flats in April.
James Shears, 35, and Alan Bannon, 38, died while tackling the blaze which started on the ninth floor of Shirley Towers in Southampton.
But like every service across the country it has to make savings.
It has drawn up plans to save £16.8m by 2015 from an annual budget currently of about £68m.
The FBU claims this means up to 190 of the 800 full-time frontline firefighters in the county could be axed.
Hampshire Fire Service refused to comment on any potential job losses but has said it will do all it can to avoid compulsory redundancies.
But it has gone public with the idea of not initially sending fire engines to a range of incidents.
Fire chiefs believe sending a manager in a vehicle to automatic fire alarms - which they claim are often false - and small fires, will save time and ultimately cut costs if resources are not needed.
Managers will also be sent to some road accidents to asses what extra resources may be needed on top of the usual response, which will still include a fire engine.
But the FBU said any delay in life-saving equipment getting to the scene could cost lives and make more work for the crews following behind.
Dean Marshall's farm shop in Bordon was destroyed by fire in March.
Mr Marshall, who said the fire service did all it could in his case, explained that he was concerned about the new plans.
"I can understand the service receive a great deal of hoax calls and this must be a waste of resources," he said.
"[But] in our own recent experience we would have been shocked and surprised [not to see a fire engine arrive first]."
Fire chiefs want to start piloting the idea from April next year in rural areas, with cities like Portsmouth and Southampton next in line.
Conrad Jordan, acting chair of the Hampshire FBU, said the plans should be shelved.
"We feel this is dangerous, you always send a fire engine because if you do need heavy equipment you don't want a delay.
"We don't know how minor or major an incident is when the call comes in, it could be anything, but the point is you plan for worse and hope for the best.
"General perception from the public is if they have a fire, they want to see a fire engine, not a man in a van."
Hampshire Fire and Rescue Service has refused to comment ahead of the Spending Review but referred to a publication recently sent to all employees.
In it John Bonney, chief fire officer, said protecting the public was always the service's priority in the face of any cuts.
He wrote: "We will be hit, and it will hurt.
"Blind cuts to the service will help no-one, but some difficult decisions and hard thinking about reducing costs cannot be avoided.
"The simple fact is that we will need to find more savings."
On the moves to stop sending fire engines to the likes of small fires or automatic fire alarms, the fire service said: "Most small fires do not need the same number of firefighters or the same amount of equipment as needed for a major fire.
"Most AFAs [automatic fire alarms] are false alarms and they take up the time of our firefighters and equipment unnecessarily.
"By developing other ways of responding, we will be able to make better use of our firefighters."
The consultation on the draft plans will run to 10 December and can be viewed on the fire service's website.
Related Internet Links
The BBC is not responsible for the content of external sites.