Biker banned after Fareham speed camera wheelie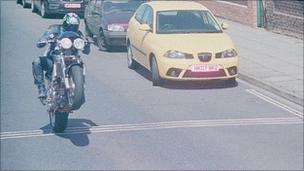 A motorcyclist caught on camera speeding and doing wheelies has been fined nearly £300 and banned from driving for 56 days.
Christopher Gelpi pleaded guilty to one count of careless driving and three counts of speeding when he appeared at Fareham Magistrates' Court.
The 21-year-old, from Alum Way, Fareham, was clocked on 10 August riding at up to 55mph in a 30mph zone.
Safety cameras also recorded the rider performing wheelies as he pulled away.
The incidents happened along London Road, Anglesea Road and Northern Parade in Portsmouth, when Gelpi was riding his blue customised Suzuki SV1000.
Officers issued pictures of the bike to all camera operators and Gelpi was eventually identified by an officer in a speed enforcement van, who took down the rear registration number.
Pc Mick Gear: "This was a reckless act that not only put Gelpi in danger but other road users as well.
"It's yet another example of how the reckless behaviour of the minority tarnishes the majority of bikers who ride safely and considerately."
Related Internet Links
The BBC is not responsible for the content of external sites.