Spending Review: Hospital staff help to save money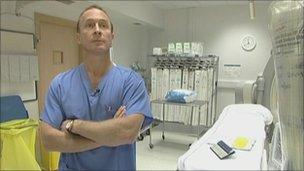 Staff at a hospital in Hampshire have been getting involved in helping to find ways to make its money go further.
The Prudence Project at Basingstoke and North Hampshire Hospital encourages staff to look in all departments for where they can save money.
In the cardiology unit staff re-negotiated a new deal on equipment, saving £120,000, while new nurse shift patterns have saved £1m.
The hospital has a budget of £150m next year but it will have to save £12m.
The Prudence Project began at the beginning of 2010 to help meet the financial challenges over the next three years, with an aim of saving at least £10m a year.
In the cardiology unit Dr Carl Brookes renegotiated a new deal on the supply of stents, used to repair damaged arteries.
He got the price down from £600 to £400 per stent and said it had saved the trust about £120,000 in the past year.
Nurses' working patterns have also been changed from early, late and night shifts to only days and nights.
The changes have meant fewer agency staff are needed and staff sickness has gone down, saving the hospital £1m in the past year.
By using a new, more efficient, microfibre mop the hospital also estimates making another £100,000 saving next year.
While the government has said that the health budget will be protected, the NHS still has to make considerable savings.
Basingstoke and North Hampshire Hospital's budget of £150m has stayed the same as last year, but costs continue to rise and the hospital needs to save £12m next year.
Alex Whitfield, spokeswoman for the hospital, said: "We've obviously got more patients coming through the door and we've got increased inflationary pressures - from our insurance premiums going up, the cost of our supplies [and] pay to staff.
"Yes, we are getting the same amount of money but we've obviously got to do a lot more with it."
Related Internet Links
The BBC is not responsible for the content of external sites.