Unreturned hospital equipment causing treatment delays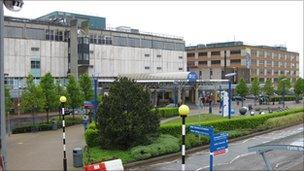 A Hampshire hospital says vital treatment is being delayed because patients are failing to return equipment they no longer need.
Southampton General Hospital said more than 600 nebulisers were currently on loan to patients across the region.
However a lack of returns from people who are no longer using them is leading to delays in treatment for those who need them, a spokesman said.
Staff are also unable to substitute machines needing a service or repairs.
A nebuliser is used to administer medication in the form of a mist inhaled into the lungs and is commonly used to treat COPD, asthma and other breathing diseases.
Jon Watson, charge nurse, said: "Although we have sent letters to most of the patients who currently have a nebuliser in an attempt to recover them, that has so far proved unsuccessful.
"Each set costs over £80 and we are unable to continue replacing them as we have a constant need to update and renew other equipment in the department - the costs would be unsustainable.
"We are asking any patients who do not currently require the use of their equipment to drop it back to us as soon as possible."
The total value of the breathing equipment currently on loan is about £48,000, a hospital spokesman said.
He said the hospital knew there were a number of nebulisers "in good working order" still with people who had completed their treatment or no longer required them.
Related Internet Links
The BBC is not responsible for the content of external sites.