Portsmouth mourns loss of 'old friend' Ark Royal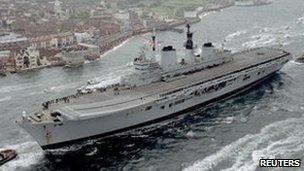 It has been a day of mixed emotions in Portsmouth with the news that the navy's flagship aircraft carrier, the HMS Ark Royal, is to be scrapped.
The announcement means two new aircraft carriers will be built and based in the city but "an old friend" has been lost.
The ship was to be decommissioned in 2014 but it will be scrapped as part of the strategic defence review.
Council leader Gerard Vernon-Jackson said the new aircraft carriers had secured the future of the city.
"It's sad to lose the Ark Royal but looking to the future, having the new Royal Navy carriers is hugely important," he added.
"It means that Portsmouth Naval Base will remain open."
More than 17,000 people are employed in the naval base and there are more than 26,000 in defence jobs across the region.
The Royal Navy said the base was a "major employer" in the Portsmouth area and had been an integral part of the city since 1194.
Mr Vernon-Jackson, the council's Liberal Democrat leader, said if the aircraft carriers had not been given the go ahead, there was a real possibility of the navy pulling out of the south coast base.
Instead they have secured the future of the naval base in the city for the next 20 to 30 years.
"The navy is the heart and soul of this city - if the navy left, there would be no point of Portsmouth," he added.
Retired Petty Officer Jim Robertson served on the fourth Ark Royal during the 1950s.
The 84-year-old, who now lives in Portsmouth, said: "It is very sad to see her go. She has been an icon of the seas.
"Portsmouth is losing an old friend and it doesn't look like her name will be kept either.
"The whole idea of scrapping her is ridiculous, it wasn't long ago that she had a multimillion-pound refit."
Rear Admiral Chris Parry, former Royal Navy flag officer who lives in Portsmouth, said he believed it would leave the RAF "vulnerable".
"The ship is quite expensive to run in terms of manpower and fuel," he said.
"They are prestige platforms, I think if they were going and we weren't getting two new ones it would be much sadder.
"We have always had an Ark Royal. At the end of the day, the ship has had an illustrious career and has done very well for the country."
Related Internet Links
The BBC is not responsible for the content of external sites.