Queen Alexandra Hospital parking charges to rise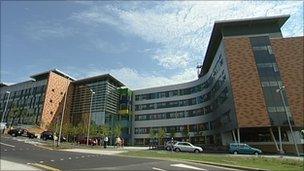 Parking charges at Queen Alexandra Hospital in Portsmouth are set to rise from November.
The charge for up to an hour will rise by 30p to £1.50, up to two hours will increase by 50p to £2.50 while an all day charge will rise from £8 to £15.
The hospital said it was the first rise since 2004 and it received no income from the charges.
The car parks are managed by Carillion as part of a Private Finance Initiative deal with the hospital.
The firm runs the sites and receives revenue from the charges.
The increases come after the coalition government recently announced it would not scrap charges, a move proposed by Labour.
Ministers said scrapping charges would mean public money having to be spent on policing the sites to stop people abusing free spaces.
Peter Mellor, from Portsmouth Hospitals NHS Trust, said: "The Trust has worked alongside Carillion to ensure the rise in car parking charges are fair, remain as low as possible and are in line with charges at other local NHS hospitals.
"It is important to note that those patients and visitors who need to attend the hospital or visit relatives for a long period of time, can still benefit from a reduced parking charge rate."
The other parking charges at the hospital will see up to three hours rise 70p to £3.50, up to four hours will rise 90p to £4.50, up to six hours will increase £2 to £6.50 and up to eight hours will go up by £2.50 to £8.50.
Related Internet Links
The BBC is not responsible for the content of external sites.